El rock más potente en clave flamenca con sabores del Magreb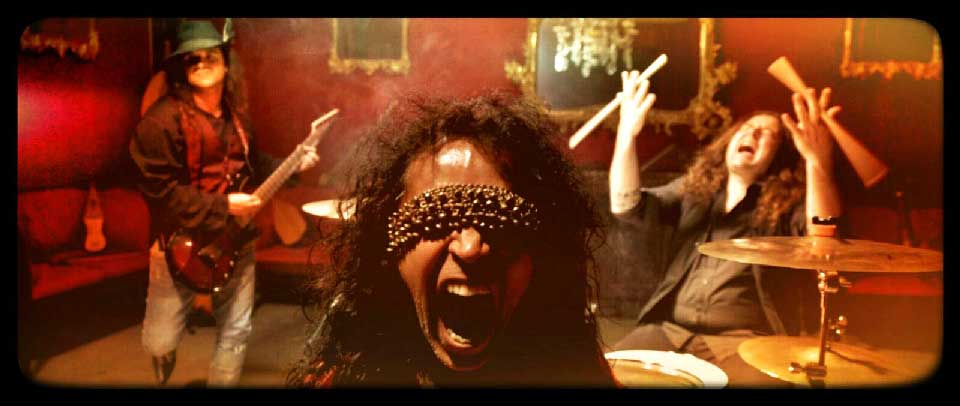 TAIFA, powerful rock in flamenco key with oriental perfumes. One of the most genuine proposals of the current music scene.
Shortly after their formation in 1997, this Spanish rock flamenco band released his first album "Más allá del sur" (1999) produced by the Medina Azahara's singer (Manuel Martínez), with the video clip "Guitarra. Espejo de mi alma". A work that takes the influences from the "Rock andaluz" of the 70's but with a modern view.
After touring to present the album, the band becomes a power trio and is headliner of the AL- LAMA festival in OUED LAOU (Tetouan – Morocco) for two years. In this country they filmed the video "Las torres de babel", the single of his new album: "ALHAMBRA" (2008), recorded between Majorca, Andalusia and Morocco, with the collaboration of Andalusi violinist Nourdine Chkara and the flamenco musicians Juan Delola, Ricardo de la Concepcion and Andres Manzano.
The album is well received by the media and public, and TAIFA is headliner of the first Metalkesh festival in Marrakech. After that a new album is released: "DESPERTANDO EL SILENCIO" (2012). A harder fusion view with the Moroccan collaboration of the Andalusian orquestra "Abnae Ziryab" (Tanger), the Gnawa band "Guya Abdessalam Bouzkeri" (Tetouan) and the flamenco of Ricardo de la Concepcion. The touring starts in the Moroccan city of Chefchaouen and continues all around Spain.
Now, first time in English, Luis Massot (vocals, bass, bouzouki and palms), Miguel Maya (guitar) and Antonio Medina (drums) has the great pride and excitement to present the new album of TAIFA: "EMBRUJO" (spell). An innovative proposal, a dream come true through the efforts of a group of musicians from different races, cultures and musical styles. Deep lyrics (written through a trip in India) with a more powerful sound, opening up to new sonorities with thecollaborations of the sarangi of Rafik Ahmed (India), the Moroccan Andalusí musicians Ahmed Abdelaziz (oud), Hanna Touk (Arab voice), Choubani Abdou (tar), Chaouki Omrani (darbuka), -Orquesta Abnae wa banat Ziryab- and Khalid Masmoudi (violin), the Mediterranean dulzaina of Jordi Mascarell, and theflamenco of Ricardo de la Concepción (piano and clapping) and Juan Delola (flamenco guitar). This time the video clip has been directed by the famous photographer Pep Bonet (Motörhead- "When the sky comes looking for you").
We invite you to join us on this journey, through the hardest rock, flamenco spell and oriental essences.